5/20/2008
Adam has been taking swim lessons for a while now and has really made a lot of progress. When he started, he didn't want to get his face in the water at all. I took him to the Y swimming the other day and he was all over under the water, so I guess the money on lessons has been well spent. I think I'll try to sign him up for the summer session lessons which are twice a week in the mornings. I will join the Y for a couple months and go swimming with Cole while Adam has lessons.



We have had soooo much rain this spring. I think we're 9" above normal or something like that. I think I heard 'wettest spring ever on record' on the weather the other day. Well apparently my irises like this kind of weather, they are insanely tall. Here is a picture of Adam with the irises to show what I mean.




Thankfully, the rain stopped in time for the annual Creve Coeur days, a yearly carnival the city puts on. Every year recently, Monsanto lets them use their property to hold the carnival, so Monsanto employees get to go early and get free rides and other goodies. The kids had a great time on the kiddie rides, both big kids and small kids. I had to have Dan stop spinning the "teacup" type ride because I was going to be sick (I guess I am getting old - see birthday below...). Cole had no fear whatsoever on all these rides, so I was impressed!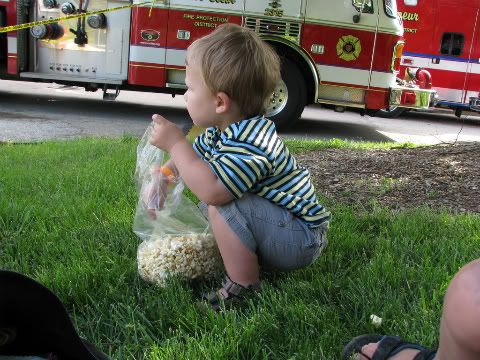 And again, I turned a year older (37 now!). Dan has managed to travel over both Mother's day and my birthday this year, but he and the boys did bake me a nice cake and give me my presents before he had to leave town. They all sang me happy birthday (I got that on video below!) All in all, it was a great birthday.



5/05/2008
Well I certainly intended to update the blog again in April, but here we are in May and I'm just getting to it. Dan has been traveling a LOT over the last month or two. He was gone for two weeks in Costa Rica at one point and that was a very long time.

We had cake and presents for Cole's birthday, and another day for a birthday outing he went with Dinah, Joey, and Danielle to the Monster Truck store here in St. Louis. The boys thought the store was pretty cool but funny that they really weren't that interested in the big, real-life trucks outside. For Cole's birthday cake I put some crumbled cookies and some of his toy construction trucks on top.


Mom was in town for a few days in April and we took our annual trek to the quilt show in Paducah, KY. I've got a link to the pictures below:

http://picasaweb.google.com/amykerkemeyer/MomSVisitQuiltShow2008

As always, we had a good time at the show. We were there from Friday until Sunday. The boys loved having Grandma around while she was there. Adam has been asking when we get to go to Grandma and Grampa's house. We will be going up in June after we go to a tandem rally in northern IL and it just worked out so that we will be able to make it to my nephew Michael's wedding reception too.

Adam had his first dentist checkup a couple weeks ago and they told us he needs a crown on his molar! I couldn't believe it when she told me that. I swear, I don't feed him straight sugar 24 hours a day! lol :) When we took him to the pediatric specialist he said the same thing, so Adam is scheduled for a crown in early June. Of course he is not going to cooperate so he'll have to have general anesthesia. I'm not looking forward to that. I'm thinking I'd better get Cole in for his first checkup soon so we don't go through this again!

We made it to our first Bike Fun Club ride this year. There was lousy weather for the first one (we've had lots of lousy weather this April) and I was out of town for the second one (weather was lousy again anyways). So yesterday we met at a friend's house who was near the ride start and then we had a BBQ lunch afterwards. Finally we've had some beautiful weather (though it was quite chilly starting out yesterday - mid 40s or so). Here's a picture of all of us on the big bike. This was Adam's first big group ride with other bikes, he had a good time and did great.

Since we've had nice weather, the boys are finally able to play outside a good part of the day. Now that Cole is a little older, it is nice that I can just sit and enjoy the weather or work on the flower beds while they entertain each other. They can keep themselves amused and pretty much out of trouble for long stretches of time outside. Adam comes up with all sorts of imaginary adventures that Cole follows along with.

A few more random pics: